Questions and Questions
---
Do I need to pay for hosting?
ezVRS is free to use to start with - we want you to try it out and feel comfortable with how it all works for you. When you want to make your Vacation Rental Website live, you will turn it ON. You will need a subscription to do this,
When you turn ON your rental website, it is made live and published to the Internet. We host the website - there's nothing else for you to do.
The only items NOT included are a Domain Name and Sign Rider.
---
Who maintains my property information?
---
Can I optimize my Vacation Rental Site for search engines?
---
How many photos can I have for my rental property?
---
Do you supply an availability calendar?
---
How do I handle inquiries and process booking requests?
---
Will a dedicated vacation property site increase bookings?
---
How much time will this take me?
---
Do I have to accept bookings on the web?
---
I am already listed on many sites - do I really need this?
---
Can I use a Domain Name I already own?
Yes. Once you have created your site, we provide instructions for setting up your site to use your domain name.
You will need to set the DNS records for your domain name at the Registrar where you purchased the domain name.
---
Am I able to see who viewed my Vacation Home Site?
ezVRS includes many different ways to capture and track traffic to your Websites. The system includes a tracking feature which logs the total number of visitors to your Web site and even generates a report you can send your seller.
Your control panel also includes a Leads and Inquiries Center, which stores any leads your Property Site generates. ezVRS even sends you a text message alert when you receive a new inquiry.
For advanced users, we've also made it easy to incorporate Google Analytics into your site. This will give you even more ways to track your traffic.
---
I have NO Technical knowledge - can I really do this?
---
How do I get a Sign-Rider?
Once you have built your site, you will have the chance to purchase a sign rider (this is an OPTIONAL service).
Sign rider fonts are fixed, but you may choose a variety of colors for the text.
Specifications
We will deliver you a 6" x 24" or 6" x 18" solid, bright-white, flexible plastic board (about 4mm thick) that goes on top of your For Sale sign, directing customers to your Vacation Property Site..
If you choose to have a TEXT FLYER message too on the Sign Rider, then it will be 2 inches taller.
These are HIGH QUALITY sign riders - not corrugated board.
Dimensions
Dimensions of the 24" wide shown below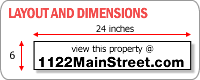 Number of Characters
Domain Name should be no more than 28 characters long.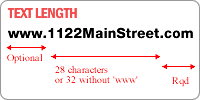 Attaching your Sign Rider
You may need sign rider clips, or holes drilled to attach your sign rider.
When you order, you can specify top and bottom holes which will be pre-drilled at no extra charge.
Sorry, but we do not supply clips, we suggest you contact your local sign company and seek these from them.
What are the Color Choices?
The text is printed on white corrugated plastic. You have a choice of four colors for the text: red, black, green or blue. All the letters on a specific sign will be the same color. All the colors are high contrast so the signs are easy to read from the street.
Delivery
Sign riders are created within 1 business day and shipped directly to you using USPS, to arrive within 4 to 5 business days after your initial order.